Kitchen hood cleaning services
Leo's Service is the leader in the kitchen exhaust hood cleaning industry in the Washington DC metropolitan area, Kitchen grease build-up presents a serious fire hazard that must be removed with special chemicals, tools and high powered equipment used by experienced technicians. An unclean hood can result in a devastating fire, a regular and proper cleaning schedule can prevent cooking flames from igniting the grease starting a fire. Hood cleaning is not just done for cosmetic purposes is also responsibility of the owner according to NFPA 96 (National Fire Protection Association) is also in order to satisfy all applicable fire state law, health and insurance requirements. All our work is 100 % satisfactin guarantee! In every service performed by Leo's Service you can expect the following areas to be cleaned: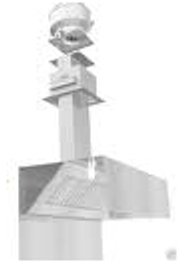 1.- Grease filters

2.- Kitchen range hood
3.- Ductwork
4.- Exhaust fan
All Filters will be power washed and all visible grease in interior of ductwork will be power washed and scrapped
if necessary, visible grease on fan will be power washed and scrapped if necessary Interior and exterior of kitchen hood is treated detail polish of stainless steel exposures. We cover and protect all exposed items in work area Upon completation of service floors are mopped throughout the work area. we leave a kitchen hood sticker showing the date caleaned and the date of next service cleaning.